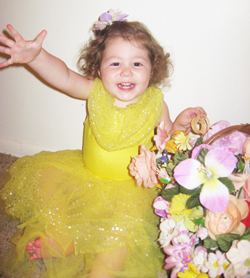 Make your birthday special with a day at the spa. Come and enjoy getting dolled up. To make your day even more memorable, Cinderella can spend your birthday with you too! Here is a brief summary of your daughter's day at Spa Babies:
• Upon entering the spa the girls are first greeted by our spa babies helpers.
• Girls then help them pick out outfits to wear,along with flip flops.
• Girls then proceed to put their clothes in their own bins.
• Let the services begin, hair,nails makeup,and toes
• Sparkle spray for the hair,then nail, and toe decals are applied,proceeded by applying an opal topcoat for the pretty finished pedi. (Every girl gets her own brush,and comb. along with her own makeup brush,and lip brush.)
• Age appropriate makeup is applied and water tattoos are put on.
• When services are complete lights are dimmed, then party lights are all turned on.
• We then start dancing
• 2 hours of music is played during your party
• Hula hoop contest,and twister game.
• After dancing we then take a group picture,and proceed to change back into their clothes.
• While the girls are changing our helpers are preparing for their pizza or cake provided by the parents of the party girl.
• If lunch is served,and cake to follow,at times we will proceed to play musical chairs,
• Following pizza, we sing Happy Birthday with a Birthday Cake.
• Then the birthday girl will give her guests their favors.
• Our spababies helpers are then carrying all gifts and left over food out to the car.
It is a full two hours of fun, for girls ranging from three years to twelve years. At the end of the party all outfits are washed and returned to spa,there are hampers the girls are to put their outfits in along with a hamper for soiled flipflops
no refund on cancellations. A mimimin of 10 girls per party. Under 10 GIRLS a required amount of $30.00 a girl.
Spa babies is celebrating its eighth year in business!
I would like to thank all the moms who had their daughters party at spa babies for all the great thank you notes you have sent me over the years.


These charming invitations are provided with all Princess and Spa packages. (Invitations provided with package #2 and package#3 only)