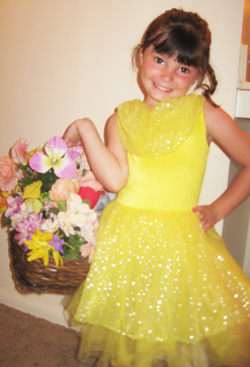 I had Gail and her team over for my daughter's 6th birthday. They were amazing! The setup was beautiful and the hair designs and nail art were amazing. The team was engaging and courteous. Above all everything was clean and hygienic! I was really happy with their cleanup as well. My daughter and her friends had a wonderful time.

Thank you Gail!
---
Thank you for making my daughters birthday an amazing experience. Your team did a wonderful job and you were organized in both set up and clean up. My daughter and her friends had a great time . I found a white rob that was left
behind. Please let me know if you would like to come pick it up sometime.

Thanks again!

Nicole Galdieri
---
Hi Gail,

How are you? I want to thank you for everything you did for my daughter's birthday on July 11th. I can't tell you how happy she is for what you did for her birthday. Specially your girls are very nice and kind. Thank you girls. Your decorations are awesome. Your package is really really worth it. I know I'm going to see you again. It's one of my daughter's [most] memorable birthday parties.
I recommend to many of my friends about spa babies. I still want to appreciate spa babies more. All of the girls had a really fun time. Thank you sooooo much.
Sincerely,
Swathi.
---
My daughter had her 7th birthday at SpaBabies and it was such an amazing time! Gail and her staff were extremely accomodating, hard-working, and detail oriented. All of the girls felt so special to be pampered like grown-ups. Many walked out saying "I want to have my party here!" So many moms asked "How did you find this place?" I was concerned that it would be too far to ask guests to drive (40 minutes), but no one seemed to mind. It was completely worth the drive and the money. I highly recommend SpaBabies for a great party.
Sincerely, Ewa
---
I just wanted to say Samantha's birthday was great, the girls had so much fun and enjoyed themselves very much. The mothers were raving about it. The new place is so nice and you and the girls did an amazing job. I just wanted to thank you for the disk, the pictures are great!!! You will be seeing us again!!
Thank again Nancye
---
Thank you so much for the tremendous lengths your staff and you went to this past Friday to make my Girl Scout Troop's experience at Spa Babies so spectacular! In fact, my daughter, Abbey, wants to have her 6th birthday party at Spa Babies! Gratefully, Clare
---
Hi Gail. My daughter had a fabulous time, in her words, "she had the time of her life". Hannah must have thanked me 5 times in the 2 hour period. The expressions on her face were priceless. Thank you so much for a wonderful, memorable party. All the kids loved it and all want their parties there. Thank you for being so helpful and accommodating. Sincerely, Jennifer Melendez
---
Thank you so much for an amazing birthday party! Morgan & her friends had such a great time. Your staff was wonderful & made the girls feel just like little divas:). Morgan said it was the best party she ever had. Thank you again for making my little girl smile all day long. Best to you and your staff! Dawn
---
Thank you so much for everything you did on Sunday.Madison had a great day_ one of her: best parties as she put it. Your staff was wonderful and treated the girls just like little princess!
---
Thank you so much for all of your energy & efforts to make Jessicas 7th birthday so special. The girls had an awesome time and Jessie said it was one of the best days of her life. Thanks for all of your caring and consideration. ps. Your girls are terrific too! Love Leslie.
---
I cant begin to thank you all enough for making Megans 4th birthday so special. She and the other girls were really and truly, treated like princess they all looked so beautiful and they all had so much fun. I have never seen my daughter more happier! Your attention to detail and service towards our guests was outstanding!! It was a great party and a wonderful day. I will highly recommend Spa Babies to all I know! Sincerely, Laura.
---
Thank you to you and your entire team for the amazing birthday party for my daughter Isabelle! The value far exceeded what I paid including all of the extras that are thrown in. The salon was beautifully transformed to a little princess palace,& the team of assistants went well above & beyond to cater to our every need. And when Cinderella arrived the girls were in awe. Isabella actually believes that she was the real Cinderella! I have held many parties costing alot of money & this one was unquestionably the best value! Many thanks again for a lifetime of wonderful memories. Stacy.
---
Thank you for always making my parties at spa babies the best. You have a heart of gold and always go the extra mile.Love Livi.
---
Thank you so much for Lillians party! You made her day so special. We really appreciate it!!! Love Jill, Lillian& Nicolas.
---
I just wanted to thank you again for a terrific party yesterday Emily had a great time and was so happy all day. All of the moms were very impressed! All of the girls had fun and will remember it for a long time! Thanks again, Renee.